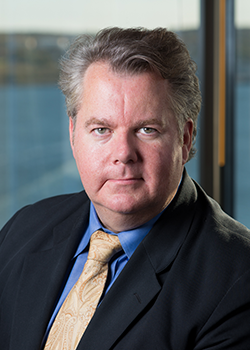 Senior Advisor, Halifax
With twenty-eight years experience in land development, real estate analysis, municipal planning approvals and project management, Kevin specializes in optimizing the return on investment value for real estate projects and has successfully managed over 1,200 throughout Atlantic Canada. His clients range from local to international developers, REITs, builders, and large corporations.
As a graduate of Dalhousie University and the Nova Scotia College of Geographic Sciences Urban Planning Program, and a former Municipal Director of Planning & Development, Kevin knows how to navigate the bureaucracy and obtain the best and highest use for his clients. He has managed, had approved and consulted on the sale of numerous subdivisions, master plan communities, multi-residential buildings and other real estate and land development projects.
As a former Vice President of one of the largest land development firms in the HRM, Kevin knows the dynamics and complex business decisions required to run a land development firm. This includes managing and working with planners, engineers, environmental and traffic consultants, architects, government officials and staff.
Kevin has a passion for the challenges of real estate and land development and enjoys putting his determination and entrepreneurial style to best use for clients benefit.
Education
Dalhousie University, Bachelor of Arts Degree
University College of Geographic Sciences, Diploma in Urban & Rural Planning
Henson College, Certificate in Local Government Administration
Nova Scotia Real Estate Commission, Real Estate License
Experience
Partners Global Corporate Real Estate (2015 - present)
Arena Marketing Group Inc. (2010 – present)
KWR Approvals Inc. (2004 – present)
United Gulf Developments Limited (2001 – 2004)
Municipality of East Hants (1988 – 2000)
Town of Bridgetown (1987)
Affiliation
Nova Scotia Real Estate Association
CNIB for Nova Scotia & PEI (Active Board Member)
Past Board President for the Urban Development Institute of Nova Scotia
Past Board Chair for the Urban Development Institute of Canada
Past Development Industry Representative on the Halifax Regional Municipality Planning Committee
Past Director of Venues and Operations for Halifax 2007 Commonwealth Games Bid
Less